Barry Wood, Volunteer, November 2019:
"Like a lot of people, I watched 'Strictly Come Dancing' the BBC TV entertainment reality dance show, and wondered just what it was like to be able to dance those dances so well. In 2009, I joined Dance Club 2000 and was trained by Angela Horton. I attended on my own and found out quickly that I had an aptitude for dancing, and loved it right from the start.
Whilst dancing at Dance Club 2000 I enquired about taking my dancing to examination level, so with my own regular dance partner, we trained and studied the disciplines for our Bronze medals, firstly Ballroom and Latin with the Imperial Society of Teachers of Dancing. Later I trained for my Silver medal at examination level in Latin American with the International Dance Teachers Association. I passed all of my examinations with a Highly Commended grade, which I am very proud of.
Over the last decade, some of highlights through my dancing journey have included being selected as part of the Strictly Come Dancing launch show in 2016! I rehearsed and met all of the professional dancers and took part in the Salsa choreographed by the famous Jason Gilkinson, who choreographed all of the 'Strictly' professional group dance routines.
Further to that, I have been a personal guest in audience of Anton Du Beke and have met him on many occasions. I have enjoyed dancing on the beautiful sprung dance floor of the Tower Ballroom in Blackpool, and danced at the Karen Hardy School of Dance in London.
Now I am back at Dance Club 2000 as a Volunteer Dance Host assisting Angela in her dance classes, which for me is great as I get to share with enthusiasm everything that I have learned from the past years to the new dancers. I specialize in technique, to help members polish their dancing skills.
Frame posture and precise footwork is important, which is why Angela and I have become a great teaching team, as there is nothing she can't teach you about the fundamental basics of Modern Ballroom and Latin American Dancing!"
Carole, July 2018:
"I joined Dance Club 2000 4 years ago having spent some time looking for a club which would provide the type of tuition I was seeking. I was keen to learn the technical dance steps and routines but also wanted to have fun and enjoy social interaction with other club members. I decided to try Dance Club 2000 and havenଯoked back!
I started with the Latin dances and then decided to try ballroom as well - and have now learnt to do both. My favourite dances are Cha Cha, Quickstep and Argentine tango - but I love it all!
Angela is an extremely good dance instructor and all dance club members are friendly and good fun - I have made many new friends in the club. At the end of each term Angela organises a dance night party with dance instruction, buffet food, wine and prizes. It is always enjoyable and a good opportunity to meet, and dance with, members of other classes.
So if you fancy trying dance come along and join us and give it a try - we堍 all friendly, have a few laughs and enjoy ourselves every week. It doesn͊matter if you have not danced before - you will soon pick it up and be able to impress your friends with your ﶥs汵ot;
Polly and Indi, April 2016:
"Dear Angela,
Just wanted to say thank you for all your help and teaching in perfecting our waltzing skills and wedding dance! Everyone was so impressed on the day with our surprise dancing skills!
We choose Norah Jones in the end for our wedding song as it is so romantic, it reminded us of all those hours practicing with you in the lead up to the wedding and fitted perfectly with our dancing routine routine!! Thank you so much once again, Polly and Indi"
Matt & Victoria, August 2015:
"Angela taught us a 2 minute dance routine to Billy Joel's 'Just the Way you Are' for the first dance at our wedding. She was very helpful and explained the moves clearly. We had our own ideas about how we wanted the dance to go and she incorporated them into our routine. During the two lessons we had were a lot of fun and the routine went down really well on the night. Thanks Angela!"
Sarah & Nick, May 2012:
"Angela taught us a slow foxtrot for our first dance on the 6th May 2012. She choreographed it to Andy Williams楲sion of ࣡nഡke me eyes off you͊Learning the routine with Angela was great fun and on the day we really enjoyed performing our routine in front of our wedding guests. We even incorporated a back-drop for a bit of extra drama! Many of our guests commented on how much they liked the routine and we are very pleased that we made the effort to do something special for our first dance as husband and wife."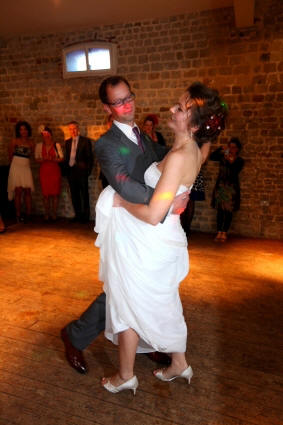 Jan & Chaz:
堨ave really enjoyed learning to dance and dancing at Angela࣬asses and at social dances and evenings. We particularly like Tango, Waltz, Foxtrot, Salsa and Cha-Cha-Cha! One of us loves the Quickstep too! Itࡠgreat excuse to dress up to the nines for a night out."